For those entering a rehabilitation treatment center, they may be experiencing a lot of new things that can be intimidating. Therapy can be cathartic but also challenging for people that have difficulty confronting their own emotions. They may not know what happens in therapy or how the process works for both individual and group therapy sessions.
Most drug rehab centers typically have both individual and group therapy available for patients with issues like addiction or mental illness. Having the balance of both types of therapy is necessary in order for the patient to connect not only with a mental health professional one on one to resolve symptoms but also with peers who are dealing with similar problems. The combination of the two therapies leads to a more complete recovery and better health.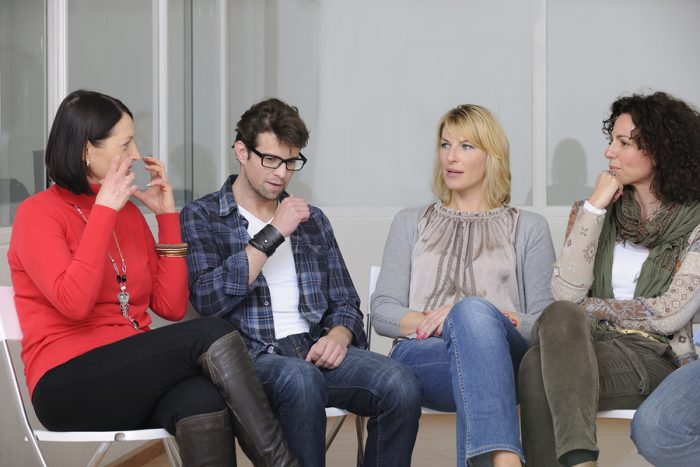 The Strategies of Individual Therapy
Much of the hard work of recovery takes place in individual therapy where the patient goes to discuss personal issues that are affecting them. Individual therapy sessions are an intimate interaction where the patient can start to feel comfortable discussing things they may never have talked about before. They can work in close connection with their therapist to identify symptoms and potential causes of their illness.
Individual sessions often involve strategies like cognitive behavioral therapy which is used to help change negative thoughts and beliefs by challenging them and their validity. Patients learn to identify problematic patterns including dysfunctional thoughts and restructure their thinking to improve their feelings and behaviors. People with issues like depression and anxiety often have distorted thoughts and beliefs about themselves or situations that can be changed in order to improve their mental health.
The focus of individual therapy is for the patient to gain trust with their therapist and work on personal problems in an intimate setting. They can build a better understanding of their illness and receive guidance on specific actions that can help relieve their symptoms. Their therapist may even give them "homework" so they can find ways to work on improving their illness in real life situations.
What Happens in Group Therapy
The idea of group therapy may seem daunting at first, especially for people that aren't used to talking about their problems with other people. However, group therapy sessions can lead to a lot of progress and their structured in a way to make each individual feel comfortable and safe enough to share. Group therapy gives people the chance to see how other people experience many of the same struggles and feelings that they do.
Typically each group therapy session will have a topic of discussion and each member of the group will weigh in on their thoughts and personal feelings about the subject. There may be planned activities such as role playing or acting out scenarios that can help patients be prepared to handle future challenges. Each person can also discuss what they are going through that particular day or week and talk about their progress as well goals in treatment.
Group therapy works because it gives each patient a bigger perspective on their illness, how to manage it and how it affects other people. It also allows patients to receive support from their peers and learn from each other in a way that helps them grow on a deep level. It is a safe haven where people can talk about things they find hard to discuss in their daily life with friends or family.
Results of Therapy
Therapy in the form of both individual and group sessions can have a profound impact on a person's understanding of themselves and how they can handle their lives. It can be eye-opening in a way that gives them insight into why they behave a certain way or why they have certain feelings. Their family or personal history can be at the root of many of their symptoms and seeing the connection can help them put things into perspective.
Group therapy can transform the way a patient sees and interacts with other people in their normal life. They may start to understand that other people feel the exact same way that they do and it can break down barriers that might have stopped them from connecting with others. The support that they get from their peers can encourage them to view themselves and the world in a more positive light.
Residential treatment can incorporate both individual and group therapy as well as various other alternative therapies to help improve the patient's overall well-being. A complete and well-rounded recovery will include as many different therapies as possible that will help provide patients with multiple opportunities to heal different aspects of themselves. Recovery programs can use combined individual, group and alternative therapies to treat many problems including substance abuse, mental illness and co-occurring disorders.
References
https://en.wikipedia.org/wiki/Group_psychotherapy
https://en.wikipedia.org/wiki/Psychotherapy