Our relationship with animals can be a cathartic and positive experience when we learn to care for them and appreciate their love. Animals have a natural healing energy that also can be very helpful for people struggling with emotional, physical or behavioral issues. Animal-assisted therapy is quickly becoming a popular alternative method of treatment for people in recovery programs.
Most studies have shown a positive outcome for people who are able to experience animal-assisted therapy for a variety of conditions including medical problems, autism, depression, schizophrenia and addiction. Animals not only help brighten people's moods they can also help patients learn useful skills and valuable life lessons through their interactions. Understanding animals and their needs can help increase our compassion and even build confidence.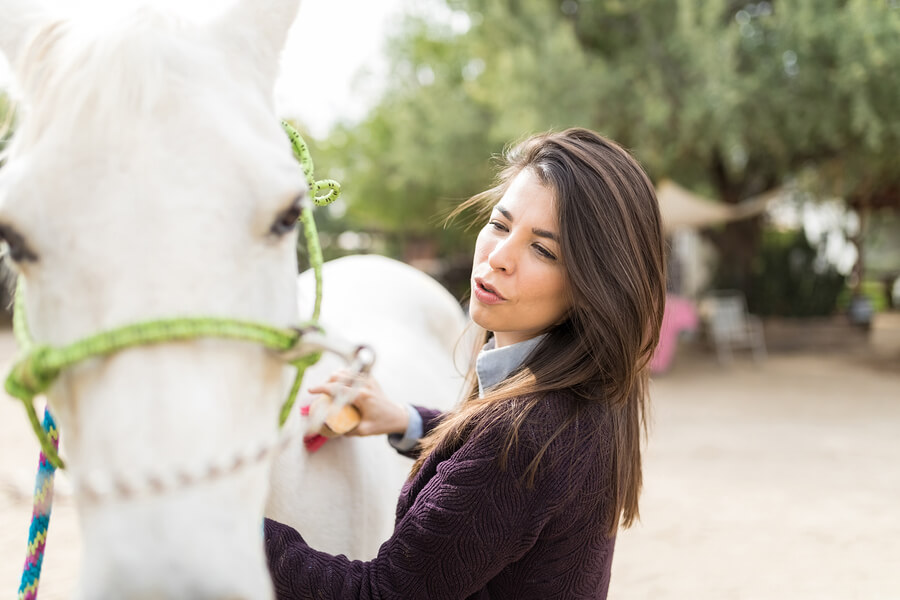 Animal-assisted therapy can come in many forms and involve different types of animals but the ultimate goal is for them to provide a therapeutic and educational experience for the patient. As more programs offer types of animal-assisted therapy, people in recovery now have the option to take advantage of this kind of treatment approach. Animals in treatment can give patients a beneficial supplement to their regular treatment plan.
How Animal-Assisted Therapy Works
When a treatment program offers animal-assisted therapy, it usually involves caring for and interacting with an animal with a therapist guiding the patient. The treatment can take place individually or in groups where patients can all interact with the animals. The therapist can help patients through the process to ensure that they learn new skills and lessons throughout the experience.
Many different types of animals can be therapeutic but the most commonly used in this type of therapy are horses (equine-assisted therapy) or dogs (canine-assisted therapy). Some treatment options may even offer therapy with dolphins, llamas, rabbits and other animals. Patients will not only spend time with the animal, they will care for them by feeding them, grooming them or walking them.
Some types of animal-assisted therapy may involve keeping an animal by your side during the day for emotional support, but most will be a limited time therapy session spent with the animal along a therapist or other specialized professional. Patients will get to know the animal and learn to understand their needs and behavior in a way that provides many benefits for them. Visiting the animal and spending time with them regularly will help them start to form an emotional bond.
Benefits of Animal Therapy
There are many reasons that people that experience benefits from caring for and bonding with an animal. In general animals are accepting, non-judgmental, and loving toward people which can help patients be vulnerable and open up around an animal. Patients can start to feeling more compassion, trust and empathy for the animal which can be healing for them if they have emotional issues.
Learning to take care of an animal can help people learn many important skills as they work in animal-assisted therapy. They will learn to be more responsible by considering the animals needs and it can help them build confidence knowing that they can take care of something. They can learn skills like increased focus and attention, better self-control, problem-solving skills, teamwork and social skills.
Bonding and spending time with an animal has been proven to reduce blood pressure, relieve anxiety, stress and reduce feelings of isolation and depression. Animal-assisted therapy can be especially helpful for people that are having difficulties accessing their emotions in their regular talk therapy. They can learn to open up around the animal and break through some of their more difficult symptoms in their sessions.
Treating Specific Problems
Animal-assisted therapy can be useful for many different types of issues because of the wide variety of skills it can help develop. Even people with medical problems such as heart disease and high blood pressure can benefit from animal therapy because it can relax them and help them minimize stress. It can help people with dementia because they can work on focusing, increasing their attention and improving motor skills as well.
One of the most common uses for animal-assisted therapy is for treating addiction. Equine therapy is often available in more high end treatment centers because it helps patients deal with their behavioral issues. They can learn to take responsibility for someone else and feel connected to the animal instead of being isolated and indulging in addictive activities.
Spending time caring for animals, developing a bond with them and anticipating their needs can be life-changing for many people. It is a type of therapy that can help build emotional and mental skills that can transfer to talk therapy and work well in connection with regular sessions. Therapists that specialize in animal-assisted therapy can help the patient use their experience as an opportunity to resolve some of their own issues while they enjoy the relationship with the animal.